NILECAPD is proud to partner with successful philanthropic organizations that include Grace Community Church in the United States of America and the Rotary Club of Calgary Downtown, Canada. The Rotary Club of Calgary Downtown, Canada, supported our peacebuilding and COVID-19 awareness project in 2021. In 2020, NILECAPD received funding from Grace Community Church for a community development project for the Maiwut fishing community and community mobilization for a peacebuilding project in Jiokow.
Individual Support from Partners and Donors
The organization has also received individual support and partnerships from well-wishers. Our founder Bayak believes in developing and establishing mutually beneficial partnerships that have enabled the successful running of the organization and the implementation of our program activities.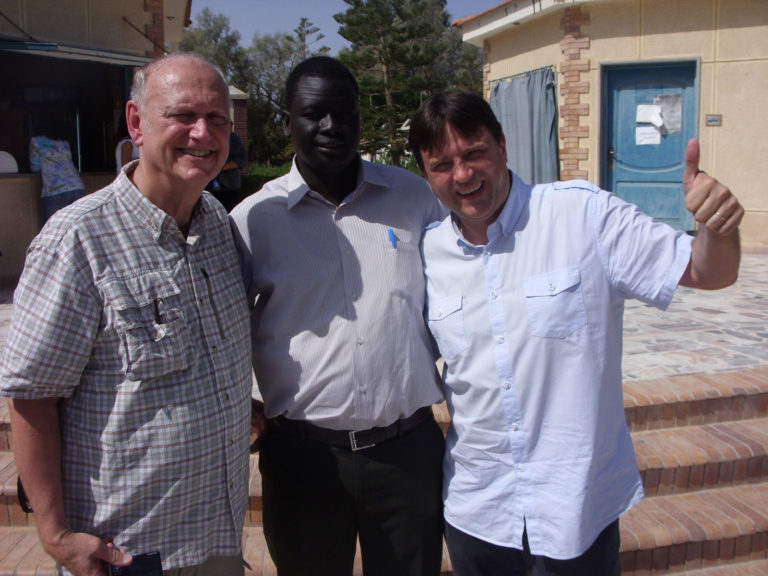 The commitment of our Partners and Donors
The commitment of our donor partners has played a crucial role in our peace forums, advocacy programs, and prevention of sexual and gender-based violence that are significant causes of livelihood deterioration. NILECAPD has identified different humanitarian areas and population needs for the effective delivery of essential services and facilities in line with our donor's interests and areas of focus. Ninety percent of the funds are used to finance our program activities and services, and only ten percent of the funds used are directed to fundraising, administrative, and management costs.
Thanks to our funders and supporters' continued support and commitment, NILECAPD is in a position to improve the livelihoods of the South Sudanese people. We have created collaborative platforms that have brought people together for peacebuilding initiatives.
RESHAPING SOUTH SUDAN'S COMMUNITY SPACE THROUGH PEACE FORUMS AND COMMUNITY MOBILISATION.
The peace forum facilitates the coordination of advocacy efforts through community dialogue.
NILECAPD conducted a series of capacity-building processes and dialogue through community mobilization and peace forums in its operative regions: Greater Upper Nile, Wau, and Equatoria, South Sudan. The peace forum helped facilitate the coordination of advocacy efforts through community dialogue.
ver 8 million people have been impacted by the ongoing skirmishes and constantly need humanitarian assistance. The number of the affected population keeps on increasing year after year. Internally displaced people (IDP) have been estimated at 1.7 million, with an additional 2.4 million having fled the country for safety.
NILECAPD has been working to support and respond to the immediate humanitarian needs of the people, including:
Nutrition
Food security
Good health and wellbeing
Prevention of Sexual and Gender-Based Violence (SGBV)
Access to education
Mental Health and Psychosocial
Child protection
Access to water
Economic empowerment
Hygiene and sanitation
Establishing partnerships with the communities and our donors
For over a decade, the country has been in turmoil with a converging war and related civil crises, which have haphazardly increased the impacts on food security issues, flood disasters, and the COVID-19 pandemic. The country has been experiencing unprecedented flooding events for the past two years (2019 and 2019), which have created additional sanitation and hygiene-related problems, increased food insecurity issues, and displacement of people from their homes.
The country faces acute food insecurity and poor nutrition resulting in acute malnutrition in children aged below five years. Women and children are the most affected groups. NILECAPD has established partnerships with the communities and our donors to scale up our support and emergency response. Our focus is to support the starving population with an adequate food supply. Our priority focus has been on protecting children and preventing sexual and gender-based violence, which have been used as significant war weapons.
The peacebuilding initiatives and the peace treaty
The elusive peace due to failed peace attempts and lack of political will by the leaders in South Sudan has resulted in arm violence. An estimated 400,000 lives have been lost, and millions are living as internally displaced people. Those fearing for their life are forced to live as refugees, asylum seekers, and immigrants in other countries. NILECAPD has also been promoting peacebuilding initiatives intending to reduce poverty and improve livelihoods.
The latest peace treaty in South Sudan was signed in late 2019, leading to a significant decrease in civil conflicts and seeing the return of more citizens living as refugees and asylum seekers in neighbouring countries. In early 2020, a unity government was formed to ensure peace, resilience, and stability in South Sudan.
Nonetheless, South Sudan remains to be impacted by severe humanitarian crises due to the developmental and economic setbacks accumulated over the years due to poor governance, civil strife, conflicts, and violence. NILECAPD is at the forefront of mobilizing people for dialogue that focuses on health and economic reforms. The goal of the peace dialogue is to ensure resilience and peaceful co-existence for the entire population in South Sudan.